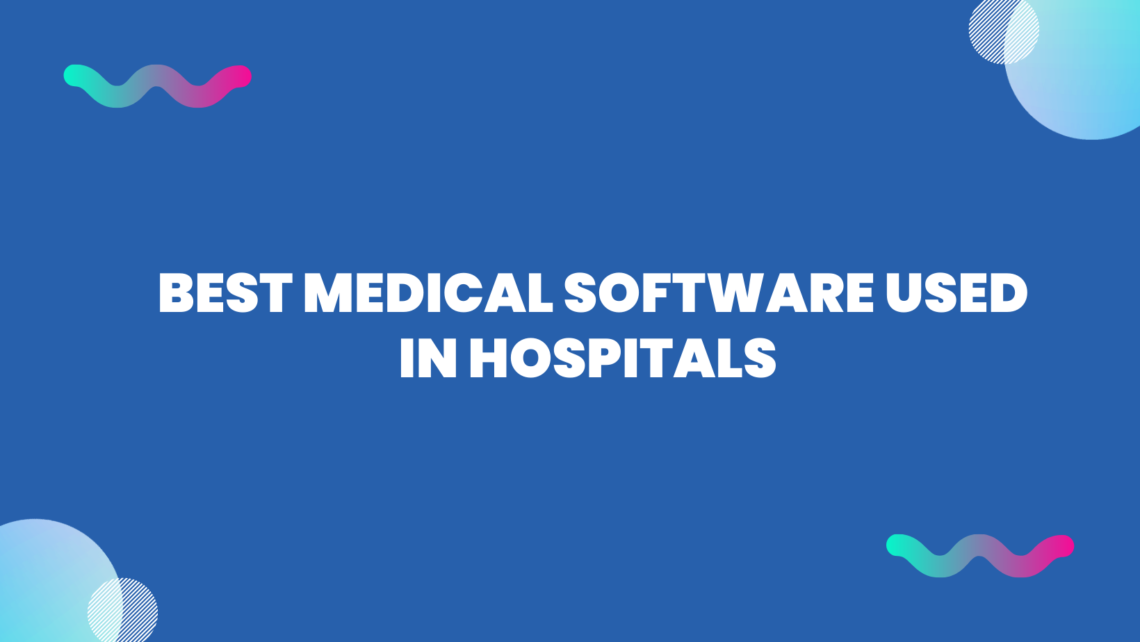 Best Medical Software Used in Hospitals
Normal medical software is often used in healthcare for billing, and booking appointments. But, they are set with specific limitations.
Old software used in hospitals based on Microsoft is no longer usable in terms of advanced care delivery. It was used for normal administration works beyond that, they don't have the capability to perform.
How does Digital transformation take place?
Gradually, over the years new software development took place with problem-solving features. That led to the transformation of healthcare from in-person to virtual treatment.
However, the adoption of digital tools takes place with the goal of reducing workflow and delivering care facilities has changed the healthcare ecosystem.
As a result, the digital transformation gathered doctors and patients under the same roof without any hurdles.
So let's move on to the next phase of the blog where we are going to explore different digital medical software utilized in hospitals.
Electronic Health Records (EHR): Treasury of Patient Data
Electronic health records are the digital transformation of medical records. Which stores numerous patient data such as diagnosis, patient history, family, medication, and so on.
However, healthcare professionals often spend their time collecting different information about patients such as laboratory tests, medications, and other test results. 
Also read: TOP 10 DATA ANALYTICS SERVICES PROVIDERS IN USA – MUST TO WATCH
As a result, EHR is a data-driven software that holds all the necessities within it. Which also automates and streamlines the process of care delivery and also reduces the workflow of the medical staff.
Furthermore, it is linked with the hospital management system which tracks patients' diagnoses and notifies them when there is a critical situation.
Remote Patient Monitoring: Track Each Moment of Diagnosis
Patients such as chronic patients are in a risky game where there is always a chance of being involved in critical situations. So keeping an eye on their vital symptoms is necessary for care providers.
Here remote patient monitoring tools take over the responsibility of monitoring the patients all over time. Whether the patient is in the hospital or not it performs its tasks beyond the boundaries of hospitals also.
However, It not only monitors but also connects with care providers who track and measure the daily and weekly reports of the patient.
Telehealth Software: The Most Trendy Software
While you might be aware that these days patients can consult doctors virtually with video consultation. But, back to the pandemic days where It was merely possible for patients to visit a hospital in a scary environment for treatment.
When the usual healthcare care software is busy during the pandemic. Telehealth has become a game changer. It is a teleconsultation software or an app through which doctors and patients come together under a safe roof.
And gradually, it becomes the most usable software all around the world. While healthcare stakeholders are now aware that telehealth is the future of virtual treatment.
These solution trends peaked during the covid pandemic and are now used by more than 85% of physicians for primary care.
Pharmacy E-commerce: A Few Tap Buying Experience
When healthcare is in the process of digital transformation. Meanwhile, the pharmacy industry participates in the transformation steps and introduces the pharmacy e-commerce platform with the goal to change buying experience of medication.
So far, getting medication differs from country to country. Such involvement of e-prescription helped pharmacy e-commerce to deliver the medication as prescribed by the doctors.
E-prescription software allows doctors not only to write a prescription but also to track the prescription history. In addition, patients can cancel and renew their prescriptions on a monthly basis.
In general, it provides such flexibility that patients can also get medication without a prescription.
Mobile Health Apps: A Supreme App to Unlock All Features
Mobile health well known by mhealth apps is one of the combined tools of healthcare facilities.
Mhealth apps allow patients to access all the healthcare facilities in just one app.
On other hand, managing multiple software is also overwhelming for medical staff and healthcare professionals.
But using mhealth they can access all the information and provide care treatment using the particular app which makes it easy for them to manage it.
As a result, It makes it effortless for medical workers to carry out various administrative tasks including billing, appointment booking, EHR, remote monitoring, and so on.
How Medical Software is up Healing The skills of Medical Practitioners And Helping Them in Care Delivery?
Medical practitioners need to be familiar with these tech tools in order to perform effective work. These tools are not just only helpful but also increase the efficiency and effectiveness of the medical task.
How these tools can contribute to care delivery?
Reducing the work burden
Assist in treating diagnosis
Automate the primary care delivery task
Help to streamline daily schedules
Comprising the process with just a few taps
Monitor the patients and their diagnosis
Streamline the complex patient information in one place
Guide healthcare professionals by analyzing the diagnosis cause
Increase the efficiency of medical practitioners,
However, many health-tech software development firms are lacking in ensuring data security as they did not utilize HIPPA complaint task management. 
Medical software is linked with the concern of data security that should be fully filled by following HIPPA compliance.
Final words
Although, digital transformation has increased the future scope for the digital health market.
Which is estimated to grow to USD 211 billion in 2022 to reach USD 809.2 billion by 20230.
You May Also Like
August 4,
December 8,