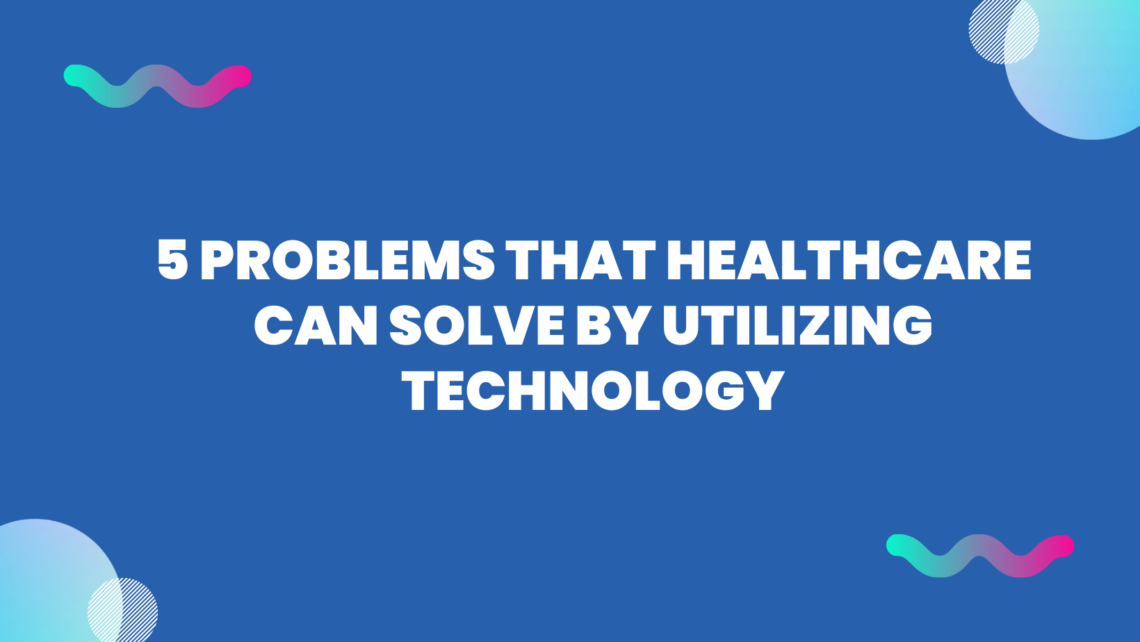 5 Problems That Healthcare Can Solve by Utilizing Technology
Healthcare is surrounded by various factors which cause its functionality. Depending on the region and country different healthcare systems and care deliveries are present.
But, the problems are quite similar in healthcare. Every individual firm is trying out to be the leading care provider.
While most firms fail in their mission and goals as they do not work on the core competency of their organization.
The process of implementing a strategic management system through which an organization performs effectively is not accomplished.
As a result, technology will help you to make your process and care facilities more effective and satisfactory.
Here are a few key problems and solutions which every healthcare organization should focus on.
Problems that healthcare can solve by utilizing technology
Patients are always looking for reliable care facilities and as customers, if they get satisfied with your services then it's quite simple that your brand equity will increase.
But not all healthcare firms are able to deliver satisfactory service as they have not automated and implemented solid care facilities. They are just going with the traditional methods.
However, with changing times you need to adopt the necessary technology revolution in your care facilities in order to maintain your position in the market.
So, here is the first problem which every healthcare organization faces.
#1 Problem:- No Remote Accessibility
Since the beginning, the barrier between doctors and patients restrained them from care delivery. And healthcare has always carried out in-person treatment.
While patients have to decide on a journey to the hospital in order to consult a doctor. Which was not possible every time.
For instance, during the pandemic situation patients were not willing to visit the hospital even though they were seeking guidance from doctors.
While in that case, they need virtual treatment in their comfort zone. So far, virtual treatment facilities have played a significant role in care delivery.
Solution:- Use telemedicine software for virtual treatment
Healthcare software and apps like telemedicine are flawless treatments for patients. It is easy to access in the rural area as well.
In addition, patients can consult with doctors anytime by chat and video meetings. While doctors can also send prescriptions without any hurdles.
However, telemedicine is a time-saving and low-cost solution for both doctors and patients. As a result, nearly 85% of physicians indicated that they feel satisfied using telemedicine solutions.
#2 Problem:- Cyberattacks
So far, cyber attacks are the biggest concern for the overall healthcare ecosystem. It can't be stopped but can be reduced if perfect steps should be taken.
As per the report, "Cybersecurity breaches reach their highest peak in 2021, with around 45 million individuals affected by healthcare attacks, up from 34 million in 2020."
However, many healthcare organizations are still using antivirus software to protect patients' data which is not impactful if the firm has a large database.
Solution:- Invest in Cyber security
Large healthcare organizations should invest in healthcare security as they hold a big amount of databases in their system. 
Also read: THE PERSUASIVE ROLE OF TECHNOLOGY ON DIGITAL MARKETING
Investing in cybersecurity will lead to protecting your firm's identity and building trust among patients that their data are in the right hand.
As a result, healthcare firms can build trustworthy identities to ensure patients by protecting their data.
#3 Problem:- Supply chain management
It may sound like it can't relate to the care delivery as the patient. But, it is one of the important backend parts of the healthcare system.
Which includes inventory management of all necessary medical equipment and drugs.
Usually, healthcare firms manage their supply chain with traditional methods which causes mismanagement, and sometimes it creates inefficiencies from the patient's end.
Solutions- Make use of the supply data management system
With advanced tech tools, managing supply chain management becomes easier and more reliable.
It provides analytical data which will update and operate your supplies with a few taps of the software or app.
And helps to manage your inventory and reduce the time and cost of medical supplies.
#4 Problem:- Lack of pharmaceutical online stores
Currently, healthcare is infected by a recession period due to high inflation all over the world.
And these led to increases in drug and prescription prices as well. However, the demand and shortage of drug supply have boosted the price of the medication.
While patients are in trouble not getting medication properly. Many pharmacy stores are not able to deliver the medication.
Solutions:- Build a pharmacy e-commerce store
Technology has the key to accessing all the solutions in healthcare. As a result, technology can speed up the pharmacy process and make it more affordable by developing pharmacy e-commerce stores.
This decreases the store management cost and other medical staff expenses that help to deliver medication and provide the prescription without traveling to the pharmacy store.
Hence, this saves time and money for the patients.
#5 Problem:- Error in medical practice
So far, treating diagnosis is not an easy task for healthcare professionals without technology. It is hard to predict the patient's illness. Because one small mistake can lead to a high risk of patient survival.
Furthermore, clinics and hospitals need medical practice systems in order to enhance their skills to detect the right diagnosis.
And, it takes a lot of effortful journey for medical practitioners without the help of technology.
Solution:- Include medical practice management software
Accumulating different diagnosis information in one place is difficult for healthcare professionals. And it creates a complexity in detecting the illness.
As a result, having medical practice management software in your care treatment can improve the process of diagnosing patients. 
Furthermore, it will support and assist doctors and medical staff in furnishing the right treatment.
Final words
Although, due to increased inflation all over the world. Healthcare is at risk of being affected by external factors. And at some end, it is already facing issues.
As a result, technological solutions can help to overcome the healthcare crisis.
You May Also Like
August 16,