INFLUENCE OF TECHNOLOGY ON MUSIC INDUSTRY
Technology has become a major element of human life. Due to technology only, we are able to fight with pandemic Covid-19. Technology is being fit in every application area effectively and efficiently.
Music is one of the major forms of art which is highly loved and praised by human beings. The music industry is grabbing the pace of fast growth with the help of technology. Today we will discuss the influence of technology on the music industry. 
HOW TECHNOLOGY INFLUENCE MUSIC INDUSTRY?
The music industry has taken a big turn towards development through technology. Technological advances have made it possible to design, create, optimize, and launch music on a big platform effectively and efficiently. The music industry is highly influenced by technology. Let's see how technology influences the music industry:
1.GIVEN A GLOBAL ACCESSIBLE PLATFORM
Music creation is one of the finest and most incredible art forms prevailing from ancient times. Music has covered the journey from alankars to pop through great revolutions and practices. Before technology, sharing this lovely art form at global level was quite difficult. 
The innovation of I-Pods, phones, television, and laptops has made it possible to listen to record, listen, and share music pieces. Because of technology only, music gets global recognition and love. Before technology also music was enjoyed thoroughly by the people, but the range of audience was very low. Now, because of technology music has become a profession and also helps people to earn their living by entertaining people. 
2.INCREASE THE SCOPE OF MUSIC PROFESSION
Music is the art form which has identity through emotions and heart. A music piece is created with love, affection, heart, and emotions. These emotions give courage to people to become musicians, singers, and composers. Before technology music was used as a medium of entertainment only. Before the technological revolution, the music industry was walking at a very slow speed and pace. Technological tools and applications give the gift of fast development through the digital medium of marketing. Technology has widened the scope of music careers by giving more sources of learning, practicing, showcasing and sharing music.
3.CREATION OF A MUSIC VIDEO BECOME LESS COMPLEX
Music videos are very trendy these days. Several new and old actors are performing for music videos to entertain their fans. Before technological advancements, creating a music video needs a lot of budget, tools, time, and effort. But now artificial intelligence and augmented and virtual reality has made it very convenient to create beautiful and soothing music videos within a short period of time. Technological applications have made creation of music videos less complex.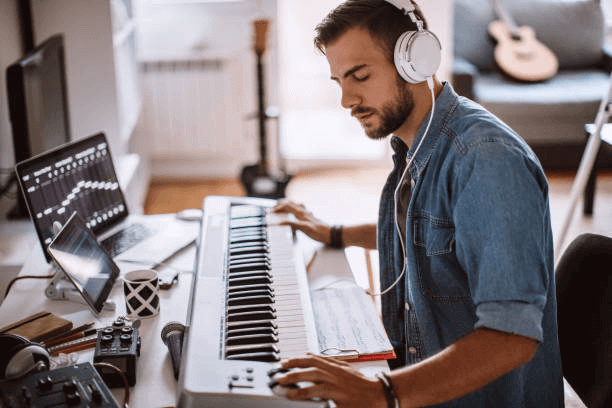 4.SMM BOOSTS THE DEVELOPMENT OF MUSIC INDUSTRY
Social media marketing is becoming highly compatible for the effective and efficient marketing of products and services. For the achievement of more views and likes, the music industry also has to rely on social media marketing. Music is successful only when it is being listened to and liked by more listeners and viewers. And social media marketing helps in reaching more numbers of listeners and viewers. Music industry is highly thankful to social media for its growth and development. Because social media is one of the mediums between the audience and the artists or production houses.
5.GIVES BOOST TO INNOVATIONS
Music industry works on creativity and art. And art needs innovations. Innovating new and creative music is a very complex process for a composer. Technology has given a boost to innovation in music. Artificial intelligence has made it possible for people to learn and practice their music on a virtual platform which gives them a feel of the actual stage. Now, kids also use technological applications for listening and playing poems and songs at virtual instruments at home. 
All this is possible through technology. Today there are various kinds of music hosting platforms available on the web where the music lovers can find new and latest music easily. Hence, technology has given the boat to innovations in the music industry because of which the music industry is achieving a lot of revenue and growth. 
CONCLUSION
Like other industries, the music industry is enjoying the benefits of advanced technology. Achieving growth and development become less difficult and the work becomes more enjoyable because of technology. Music industry should be highly thankful to technology.
You May Also Like
February 9,
February 9,